✅ 100% Money Back Guarantee
✅ Order Processed Within 24 Hours


Do You Want to Have a Portable Nebulizer That You Can Use Anytime to Get Relief from Your Breathing Problem?
Here's a Nebulizer Device That Can Help You Treat Your Emphysema, Bronchitis, and Asthma among Other Lung Conditions!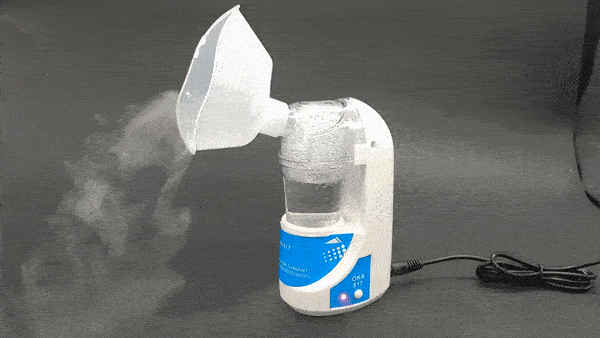 Produces Cool Mist,
Portable Nebulizer
for Kids and Adults Treats Common Colds Symptoms Like Flu and Cough with Its Vapor Therapy among Different Types of Breathing Problems.
This Portable Handheld Nebulizer is perfect for an emergency medical device for people with breathing problems. In case of difficulty breathing, it will help you clear your sinuses in an instant and helps you take deep breathes again easily.
Don't worry, as long as there is a power outlet where you are, you can use this portable nebulizer and be able to breathe again. It is very small and light so you can pack it in your bag easily and use it as needed.
Features
✅ Safe to use and CE certified: This steam inhaler is safe to use as proven by its CE certification. The materials used in making this device are durable ABS materials and medical grade. It is categorized as a high-quality ultrasonic nebulizer so rest assured that it can help you with your breathing problem effectively.


✅ Help in improving medical condition: If you have breathing medical conditions at home, this device can help you improve your health without needing to go to a hospital. It can give you inhalation treatment, gives relief from bronchitis, common colds, flu, cough, and different respiratory illnesses. For best results, add essential oils to it or salt or ask your doctor for their recommendations. You can also add your respiratory medication to the water inside this nebulizer.
✅ Effortlessness of use:
 Once plugged into a wall outlet, it immediately produces a cool mist to soothe your lungs and help you breathe easily without producing noises. Have it on for 10 to 15 minutes or until you feel better. Because it is lightweight and small, it is easier to operate, to carry, and to use.

✅ Stylish and small: It is small and easy to carry around because of its lightness so you can bring it anywhere you go like office, during travel, or when on a business trip or just at home.
✅ Innovative technology:
 This nebulizer device comes with two airflows speed that you can choose from. It heats the water of up to 20~40℃. You can set the steam control and when you're done with the treatment, it turns off automatically.
This device doesn't have a compressor so you can expect it to work in silence, use it even at night when your family is sleeping.
* Recommended for use for kids and adults, men and women.
Directions for Use
Attach the power adapter to the device and plugged it into an electrical outlet, power it on.

A green light will come on, it means it is on standby.

Press the mode button, a red light will come one and it means it is on operative status, the atomization will begin. Red light means large atomization is on.

You can press the mode button again to change the large atomization to small ones, a red to green light flashing means that it is on small atomization now.

If you want to stop the treatment, press the mode button three times.

Even if the device has stopped working, if there is still atomized liquid in the medicine cup, you can press the mode button again and start the treatment process as needed.  Repeat the first step onwards to repeat the treatment process.
Package includes
1* Ultrasonic Portable Nebulizer 
---
Special 50% OFF - Limited Time Offer!

Click the "Add to Cart" button to order yours today! 🚚 Note: Due to high demand, please allow 10-15 business days for delivery. Many times, your items will arrive earlier! We send all our packages with a tracking number so you will be able to check it every step of the way!
GUARANTEED SAFE CHECKOUT