Do you want small projector for big things?
The whole cinema in comfort of your own home. Complete home entertainment system connects to all your devices such as phones and laptops yet compact enough to fit perfectly in your bag. It never was so easy and fun to watch your favorite films anytime, anywhere.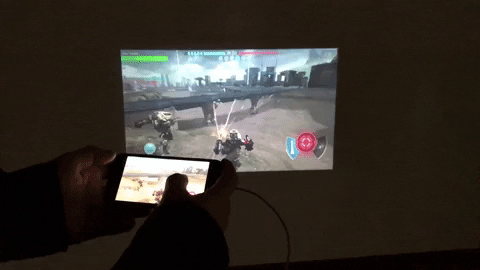 You can take it anywhere you go - cute design, super-sized, this item would be your best friend and «anti-bored-system» on every journey. You need to have it!
Finally, a tiny, portable projector that can turn your living room or any surface into a full-blown home theater with an image up to 60 inches diagonally! 
Immerse yourself in lifelike image sizes. Perfect for movies and even games!
Features
✅ Projects bright, sharp images up to 60" diagonal

✅ CONNECTS via HDMI cable to most smartphones, tablets, computers, video players, cameras and more.
✅Dual built-in speakers and focus control

✅Includes HDMI cable, Micro HDMI adapter, Mini HDMI adapter and AC adapter
Specifications
Type: Digital Projector
Style: DLP
Use: Business & Education, Home, Other, Business & Education, Home
Home Theater Projector: Yes
Portable: Yes
Brightness: 400-600lumens
Weight: 1kg
Resolution: 320*240
Projection Distance: 0.8-2m
Lamp: LED
Package Include
1x Ultra Portable Pocket Projector

1x Power Adapter

1x 3.5mm to RCA AV cable (HDMI cable not included)

1x Remote Control

1x User Manual