🖼 😍 Bring any picture on your phone to life on paper by using our
Optical image drawing board !

 😍 🖼
Now draw and paint flawlessly by tracing a projected digital image from your phone and leave everybody mesmerized with your talent.
Use this drawing board to polish up on your creative skills or whip it out on a family night for hours of wholesome fun with your kids.
Reflect an image from your phone, tablet, or book onto a sheet of paper, then trace the outline and create your masterpiece with our Masterpiece Optical Drawing Board.
It allows you to trace or draw any masterpiece more easily. You can download an image to your phone or tablet, place your device on the board, then you can start painting. Easy and quick start for all users.
Using the simple contraption does not only let you practice your drawing and painting skills but also helps you relax and de-stress.
It allows you to express your thoughts and emotions clearly, concisely, and artfully - preventing the bottling up of negative feelings and promoting a healthier lifestyle. 

The picture is not projected onto the paper. Through the lens paper, you can see the picture on the drawing. The track pad has two sides, the front and the back, and the projection effect on both sides is different.
Features
✅ 
Express Yourself : 
By using the Optical Tracing Drawing Board
,

 
you are in 
full control of what you draw
, how you draw, and when you draw it, Art is and should be a way to showcase your creativity through different artworks and designs, This 
tracing board 
allows you to truly express your passions and desires as you are given the opportunity to draw anything and everything you want.
✅Designed for Everyone: Art is an important aspect in developing creative minds, and should be easily accessible to everyone, Due to the simplistic design of this Optical Tracing Drawing Board, both kids and adults can use it with ease. 
✅Many Health Benefits: Sketching is commonly associated with improved creativity and mental focus, Additionally, drawing has been associated with decreasing depression and reducing anxiety,  The Optical Tracing Drawing Board  allows you to genuinely express yourself, as you are able to choose and draw any image in the world
✅Ideal Tracing Tool: Suitable for children, adults, comics/anime lovers, beginning artists, learn to draw at any age. And you can use it to practice calligraphy, learn to draw, draw for T-shirts and bags, etc.
✅

Brackets Included to Support Any Device:

 This sketch tool comes with brackets to keep your drawing process stable and smooth. The bracket has two kinds of splicing methods, which are simple and quick to assemble and support most mobile phones and tablets.
How do I use it?
Insert your phone to the top of the holding rack.
Place the mirror below in the given indent. 
Choose an image you'd like to draw on your phone
Insert paper or another material below the mirror, and start tracing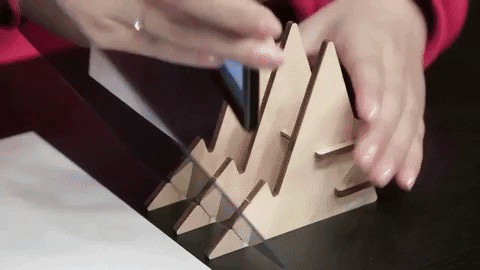 Specifications
Projecting mirror:

 

135 mm x 200 mm
Holding rack:

 

100 mm x 100 mm
Package Include
1x Optical Image Tracing Board
1x Holding rack for mirror and phone