✅ Free Shipping Worldwide
✅ 100% Money Back Guarantee
✅ Order Processed Within 24 Hours
Bacteria and mold grow on your old toilet brushes that sit in your bathroom, and replacing the toilet brush every few months is a hassle !
This modern toilet brush prevents bacteria from growing with its innovative high-grade design.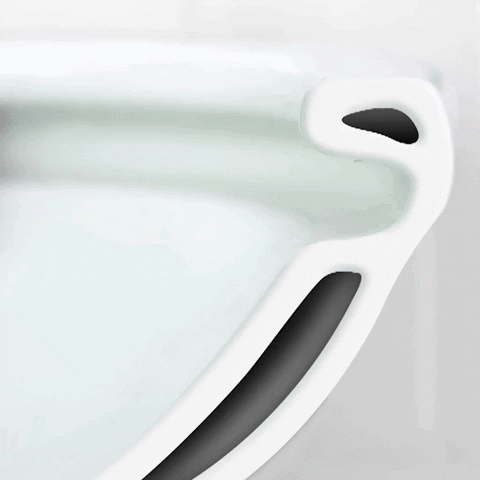 It's made from thermo-plastic rubber material which doesn't absorb the dirt from the toilet. The bristles make scrubbing twice as effective as traditional toilet brushes. 
The brush never wears out or changes its shape, making the brush last for years
When you're done scrubbing, the quick-drying holder (choose between wall-mounted or floor-standing) allows the water to evaporate at the top and the bottom, which means no dirty water and build-up of mold.
This will save you time when cleaning compared to a traditional toilet brush.
Features
✅ High Quality TPR Bristle Material: Use soft TPR bristles with strong cleaning power and protect the surface of the toilet. The brush never wears or changes shape and retains perfect cleaning.
✅ Easy to Clean: Gently wipe off rubbery material that fits well and crush sufficiently to get into the nooks and crannies. Design for deep cleaning under the rim and other hard to reach places.
✅ Comfortable Design: Comfortable, non-slip handle design. For a perfect cleaning does not have to be pressed. Soft brush fibers require gentle, the lighter the touch, the better the cleaning results.
✅ Unique Design: Unique round center-of-gravity design with a sturdy bracket that allows you to turn around and fall down. The base is not closed, provides good ventilation and keeps the base clean.
✅ Good Color: Black and grey color matching design, simple and elegant.
SEE WHAT OTHERS ARE SAYING
Mandy O
Let's face it, toilet brushes are disgusting. I've tried replacing cheap brushes every 6 months, buying ones with disposable sponges, clip on cleaners, etc., and it doesn't mean the brushes are cleaner, just more wasteful. This brush is rubber-like. So far it cleans and scrubs well. Afterwards I can rinse it off in the sink and spray it down with a disinfectant and put it back in its holder. The holder is vented so that water doesn't pool up on the bottom and grow bacteria. It's awesome!

Specifications
Product Name: Toilet Brush Set
Size: Toilet brush set: 43*10.6cm/ 16.93*4.17inch (approx).
Color: Grey & Black
Material: ABS (Acrylonitrile Butadiene Styrene) + PP (Polypropylene) + TPR (Thermoplastic Rubber)
Package Include
1 x

Modern Hygienic Toilet Brush
---
Special 50% OFF - Limited Time Offer!

Click the "Add to Cart" button to order yours today!
🚚 Note: Due to high demand, please allow 10-15 business days for delivery.
Many times, your items will arrive earlier! We send all our packages with a tracking number so you will be able to check it every step of the way!
GUARANTEED SAFE CHECKOUT