✅ Free Shipping Worldwide
✅ 100% Money Back Guarantee
✅ Order Processed Within 24 Hours
Detect your blood oxygen saturation and pulse rate only through fingers!
The PulOxy™ Finger Pulse Oximeter is an affordable and accurate way to check pulse rates and blood oxygen saturation levels. Using a self-adjusting finger clamp and a simple one-button design allows for easy operation.
Suitable for daily use, measure your health at any time.
This Blood Oxygen Monitor has small size, low power consumption, convenient operation, and portability. It is only necessary for the user to put one of his fingers into a fingertip photoelectric sensor for a reading, and the display screen will directly show the measured value of pulse oxygen Saturation.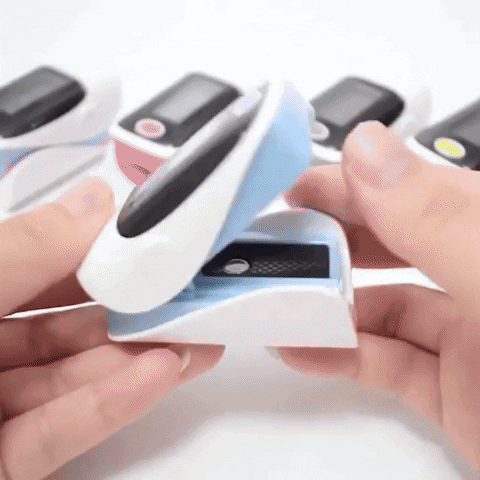 What is pulse oxygen saturation ?
The pulse oxygen saturation is the percentage of HbO2 in the total Hb in the blood, so-called the O2 concentration in the blood.
It is an important bio-parameter for respiration, For the purpose of measuring the SpO2 more easily and accurately, we recommend to use this OLED Display Pulse Oximeter. At the same time, the device can measure the pulse rate simultaneously.
Importance of oxygen in the blood :
The fact that oxygen is essential to human life is well known. Air that is inhaled contains oxygen. The human lungs are the organs where the inhaled oxygen enters the bloodstream and reaches all the cells in the human body.

That's why we recommend this Deluxe Pulse Oximeter which is uniquely beneficial for people who want to check on loved ones or know their SpO2 (Blood Oxygen Saturation Levels) and pulse rate.
Whether you're a senior, infant or athlete, these portable Blood Oxygen Monitors are an essential item to carry with you. They come in different colors to suit your trendy style! 
Why might I need Portable Fingertip Pulse Oximeter?
This OLED Display Pulse Oximeter may be used to see if there is enough oxygen in the blood. This information is needed in many kinds of situations. It may be used:
✔ During or after surgery or procedures that use sedation
✔ To see how well lung medicines are working
✔ To check a person's ability to handle increased activity levels
✔ To see if a ventilator is needed to help with breathing, or to see how well it's working
✔ To check a person has moments when breathing stops during sleep (sleep apnea)
Pulse oximetry is also used to check the health of a person or pre warns of any condition that affects blood oxygen levels, such as:
Heart attack

Heart failure

Chronic obstructive pulmonary disease (COPD)

Anemia

Lung cancer

Asthma

Pneumonia

Your healthcare provider may have other reasons to advise pulse oximetry
It comes with a Neck/wrist cord. Convenient for nurses and doctors to hang on the neck. Also it has a small portable size and a lightweight which makes it easy to handle and carry. 
This FDA Approved Multi-Color TFT Display Oximeter is a portable equipment adopting advanced technology, it mainly checks SpO2 and PR value through the finger, which provides advanced, non-invasive and scientific means for quantitative measurement of oxygen saturation.
Features
✅ Accurate And Reliable: Accurately determine your SpO2 (blood oxygen saturation levels), pulse rate and pulse strength in 10 seconds and display it conveniently on a large digital LED display.
✅Easy To Use: Insert finger into rubber of the pulse oximeter and press "on". Intelligent tool for exercise recovery, elderly, hikers, climbers (monitor the oxygenation rate of cells, for overall health). Essential to take reading without moving the body or hand to obtain accurate result.
✅Light And Portable: Monitor is very light, small in size, low in power consumption and easy to carry with detachable lanyard; so, you can measure oxygen saturation anywhere. Auto power off s seconds after removing finger saves battery life. Requires two AAA batteries (not included).   
✅ Full SpO2 Value:  The ONLY LED pulse oximeter that can read and display up to 100% for SpO2. 
✅ Sport/Health Enthusiasts: For sports enthusiasts like mountain climbers, skiers, bikers or anyone interested in measuring their SpO2 and pulse rate. SpO2 and Pulse Rate now faces instead of away from the user for an easy read.
✅ Accomodates Wide Range Of Finger Sizes: Finger chamber with SMART Spring System. Works for ages 12 and above.
SEE WHAT OTHERS ARE SAYING
Adams
I got this for my mom who is a heart patient in a lung patient who does not get enough oxygen. This checks not only her oxygen levels it also checks for heart rate and let you know her heartbeat what speed buy a little up and down light up thing. This is been a great help to her for monitoring how low and how high the oxygen levels are with all her activities. great buy for that. It comes with a lanyard so she can wear it around your neck and take it wherever she goes and a little plastic silicone case. She is well pleased with it and it is simple for a 70 year old lady to understand.
Specifications
Size: 

57 mm (L) * 31.5 mm(W) * 30.5 mm(D)

Power: 

2*AAA 1.5 V alkaline battery

Certificate: 

CE/ISO13485

Material: 

ABS

Colors: Green, Blue, Pink, Purple, Gray
Package Include
1 x Fingertip Oximeter (without battery)
1 x Lanyard
1 x User manual
*By aviation restrictions, batteries are not included in the package.
---
Special 50% OFF - Limited Time Offer!

Click the "Add to Cart" button to order yours today!
🚚 Note: Due to high demand, please allow 10-15 business days for delivery.
Many times, your items will arrive earlier! We send all our packages with a tracking number so you will be able to check it every step of the way!
GUARANTEED SAFE CHECKOUT