Do you hate loose sheets or crumpled and wrinkled sheets in the morning?
Exclusively designed, this versatile bed sheet gripper works with all types of bedding and requires no heavy lifting. And with the strong build of these straps, your bed sheet will stay in place for a long time and keep your bed looking great at all times.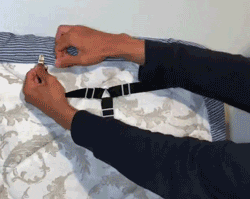 The bed sheet cover grippers are made of sturdy chrome metal clips and heavy duty elastic bungee cords that will grip your bed sheets firmly.
Easy to put on and keeps sheets in place and no more fixing sheets, adjustable length allows desired tension. Triangular designs, which avoiding the elastic sliding all the time.
Built-in plastic clenching system protects fabric from harm; Holds tightly in place, works with all types of bedding.
Features
✅ QUALITY BED SHEET STRAPS: Made of high quality elastic band and clips to fit different types of bed sheets including fitted sheets, flat sheets and mattress pads. Enhance your sleeping experience, no more loose sheets in the middle of the night!
✅ NO HEAVY LIFTING OF MATTRESS REQUIRED : Simply secure the 2 clips at either end to any corner of your mattress sheet. Slide it underneath the mattress and firmly secure the opposite end of the clips to the sheets. Avoid the hassle of lifting heavy mattresses up or flipping it around!
✅ SHEET-SAFE GRIPPERS & CLIPS: Bed sheet clips are made of quality chrome metal with plastic grippers for a firm grip. Unlike other bed sheet grippers, this will protect your sheets from tearing, yet is able to secure the sheets on your mattress tightly without having to worry about them coming loose!
✅ ADJUSTABLE BED SHEET SUSPENDERS BUCKLE: Use the buckle to lengthen or shorten the bed sheet corner holders depending on your sheet size. Adjust the bed sheet garters according to your personal needs
Specifications
Width: 2.5cm/0.98inch
Multi-functional Adjustable
Min Length(Flat): 100-150cm/ 39.37-59.06 feet
Max Length(Stretch): 200-250cm/ 78.74-98.43 feet
Material: Metal+ Elastic
Package Includes